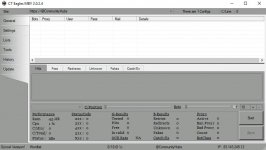 ​
 ​
Update CT Eagles MBY v2.2.0.4
​
Features:
1- ReCaptcha Bypass
2- Cloudflare Bypass
3- Cloudflare + ReCaptcha Bypass
4- Free OCR Recognition (Tesseract)
5- Http Https Sock4 Sock4a Sock5 And Chain Proxy Socket
6- Unlimited BruteForcer Slot
7: WEBRequest + HTTPRequest 2 Module
8: SSL TLS Authentication
9: Ftp + Form Request
10: Md5 and Sha all Data Cryptography
11: PBKDF2 Cryptography
12: Changeable Color Styles
13: Much More Features
🖥 System Requirements:
1: NET Framework 4.6.1
2: C ++ 2015 Redistributable
3: OS Windows 7 and Higher
Updates:
v2.2.0.3 Fixed: Cloudflare Bypass Fixed
v2.2.0.4 Fixed: Unlimited BruteForcer Slot, Changeable Color Styles, PBKDF2 Cryptography, TLS Authentication and Much More Features added.
Note: Old version configs may not work on new versions.
Note: Codes are protected. Some antiviruses may be harmful❗️
Virustotal:
https://www.virustotal.com/gui/file/c406f7b7692ae8ae3c244e749c3a6d00573ef0d348d3b1dd6c7c6e3e3c67bdd1/detection
[hide_like]
View hidden content is available for registered users!
[/hide_like]